The Shared Governance Board is a governing body of the Preschool Services Department that has legal and fiscal oversight of the administration of quality services of the Head Start programs.
The Shared Governance Board is composed of experts in the fields of finance, law, early childhood education and development as well as additional members who reflect the community to be served and include parents of current or former Head Start children.
The Shared Governance Board uses child and program data from many sources to make informed decisions about service options, policies, procedures, and financial management for the purposes of ensuring quality services to children and families.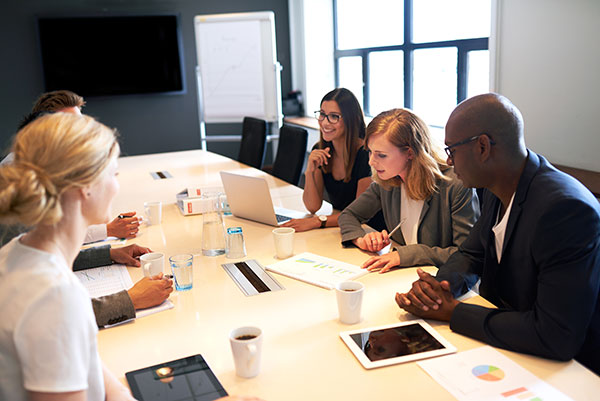 Shared Governance Board Members
Joe Baca, Jr.
Chair
Fifth District Supervisor
San Bernardino County Board of Supervisors
Supervisor Joe Baca, Jr. is committed to the County of San Bernardino. Supervisor Baca, Jr. brings a wealth of experience and home-grown expertise to the County of San Bernardino. He was raised in the City of Rialto and attended all local public schools including Boyd Elementary, Morgan Elementary, Frisbie Junior High, and Eisenhower High School. Supervisor Baca, Jr. stayed close to the community after graduating from high school. He attended local colleges receiving his A.A. degree from San Bernardino Valley College, B.S. degree from Cal State San Bernardino, a Master's degree in Public Administration from Cal State San Bernardino, and a second Master's degree in Education from Azusa Pacific University. His educational experience is supplemented with a seven-year career in law enforcement and 15 years of experience teaching in our local classrooms.
Supervisor Baca, Jr. went on to become a teacher and head coach for the softball team at Rialto High School. Teaching and coaching at Rialto High School has helped Supervisor Baca, Jr. get to know many of the young people growing up in our community and has helped him implement programs for our youth. In addition, His experience as a public school teacher helps him foster relationships and create partnerships within our community.
Supervisor Baca, Jr. served on the Rialto City Council from 2007-2020. Prior to serving on the City Council, he was a member of the California State Assembly from 2004 through 2006. As a Councilmember, he served on the Bud Bender Ad Hoc Committee that brought to Rialto two of the only Dodger's Dream Fields in San Bernardino County. His passion for strong communities allowed him to be appointed to the Council's Ad-Hoc Subcommittee to help develop the design of Phase II Citywide Parks improvements.
Supervisor Baca, Jr. believes in giving back to the community that has been so good to him. He has worked diligently to increase funding for senior programs, implement after-school programs for our youth, and increase funding for the police and fire departments. His love for the County he has called home for over 49 years is shown by his regular presence at civic events throughout the Inland Empire. He and his wife Jennifer have been married for 18 years. He has three children and three lovely grandchildren. He is a member of St. Catherine's of Siena Catholic Church in Rialto. He is proud and thankful to the citizens for giving him the opportunity to serve the people in San Bernardino County's 5th District.
Theodore "Ted" Alejandre
County Superintendent
San Bernardino County Superintendent of Schools
Ted Alejandre is the 34th Superintendent of Schools for San Bernardino County. He was first elected to the county's lead educational seat in June 2014 and was reelected in both 2018 and 2022. He began his third consecutive four-year term in January 2023.
With more than three decades of experience in public education, Mr. Alejandre has been a teacher, vice principal, principal, and director of fiscal services at the district level. He joined the office of the San Bernardino County Superintendent of Schools in 2008 as the assistant superintendent of Business Services and later was appointed deputy superintendent, overseeing all operations of the organization.
As county superintendent, Mr. Alejandre works collaboratively with educators, families, other agencies, and community partners to provide advocacy, leadership, and services for nearly 400,000 K-12 students attending public schools in San Bernardino County. His office oversees a $370 million annual operating budget and employs over 2,400 employees.
Among the highlights of Mr. Alejandre's service as county superintendent are nurturing the Cradle to Career Roadmap, targeting early literacy, establishing the first ever countywide Student Advisory Panel, being President of the California County Superintendents coalition, and revamping the Alliance for Education to strengthen the alignment and connection of business and community organizations to education and workforce development.
For being a fierce advocate for education, Mr. Alejandre was selected as the California Superintendent of the Year for 2022 by the Association of California School Administrators.
Mr. Alejandre is also a retired U.S. Air Force Lieutenant Colonel serving since 1984. He resides in Yucaipa with his wife, Barbara, and they have three children.
Dr. Georgina Yoshioka
Interim Director of Behavioral Health
San Bernardino County Behavioral Health
With 26 years of experience working in the field of social work, Dr. Georgina Yoshioka specializes in the delivery of behavioral health services to diverse populations including criminal justice, healthcare, and child welfare systems.

Since joining the County of San Bernardino, Department of Behavioral Health (DBH) in 2008, Dr. Yoshioka, has provided leadership over programs within the Forensic Services division, addressing the multi-layered needs of the adult forensic population, managing specialized outpatient treatment programs, partnering with key members of the criminal justice system including San Bernardino County Sheriff, Probation, Public Defender District Attorney, and local law enforcement, mental health courts, hospitals, parole and state prisons.

In her prior role as the Deputy Director of 24 Hour & Emergency Services, she oversaw an array of centralized specialty County behavioral health programs including Community Crisis Services, Diversion Services, Centralized Hospital Aftercare Services, the Crisis Intervention Training (CIT) program and managed the contracts that outline the delivery of services to the department's Crisis Stabilization Units, Crisis Walk-In Centers, and Crisis Residential Treatment facilities. Dr. Yoshioka became Interim Director for the Department of Behavioral Health In December 2021 and was officially appointed Director in December 2022.
Dr. Yoshioka has a Bachelor of Sociology, a Master of Social Work with a focus on Children, Youth and Families, a Master of Business Administration, and a Doctor of Social Work. She is also a Licensed Clinical Social Worker (LCSW) in the state of California.

Dr. Yoshioka is driven by her dedication and determination to be a key contributor to the mission of providing individuals, families, and communities
Michael A. Sequeira
Dr. Sequeira received a Bachelor of Arts in zoology with Highest honors from Pomona College in Claremont and graduated with his medical doctorate in the top 10 percent of his class from the University of California, San Diego School of Medicine. He completed his residency in internal medicine and emergency medicine at the University of Oregon Health Sciences Center in Portland.
For the past 30 years, Dr. Sequeira worked in leadership roles at the local, state and national levels, including as regional director of six of its hospital emergency departments, including hospitals in San Bernardino, Apple Valley, Colton, and Redlands. He is past president of the San Bernardino County Medical Society (2016-17) and a member of the steering committee of the Inland Empire Opioid Crisis Coalition.
He also served as National Risk Director for Vituity Healthcare, and is on the faculty of CUSM, Loma Linda University, UC Riverside, and Western Medical Universities.
Wendy Alvarez
During her career with San Bernardino County, Wendy has served in multiple leadership capacities, most recently, as the Interim Children's Network Officer for Children's Network. She holds a Masters degree in Business Administration and a Bachelors degree in Bilingual Education/ Cultural Ethnic Studies.
She is committed to improving the lives of children and families through a holistic approach that requires coordinating and providing services that strengthen and support all families; making sure each child has the opportunity to grow and flourish.